"What we don't want is somebody that says, 'Ah ha!' those 10,000 people in the Verde Valley who have these wells, and if it is adjudicated by modeling to say that's subflow, they are criminals and will be treated accordingly,'' Bowers said. "Well, I don't want that to happen.'' Adobe Stock Image
Stories this photo appears in: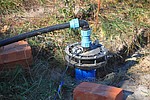 PHOENIX -- State senators approved legislation Tuesday crafted by House Speaker Rusty Bowers on Tuesday he said will help keep thousands of Arizonans out of jail.