Chandrika Patel said it has been the dream of her and her husband Jack to build a hotel on their land, a parcel on the southeast corner of Jacks Canyon and SR 179. A rezoning county Board of Supervisors meeting about the proposed zoning change for the hotel has been pushed back to November. VVN/Bill Helm
Stories this photo appears in: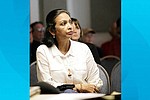 Yavapai County Board of Supervisors will consider a residential-to-commercial rezoning application three months later than originally scheduled.