Gov. Doug Ducey. Capitol Media Services file photo
Stories this photo appears in: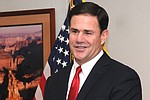 Gov. Doug Ducey did not act illegally in blocking the eviction of tenants who have not been paying their rent, a judge ruled Wednesday.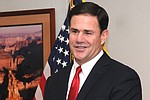 Gov. Doug Ducey expects that Arizonans will need to continue to wear masks through at least the end of the year.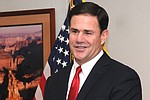 The opinion of Arizonans about how Gov. Doug Ducey is handling the COVID-19 outbreak has dropped -- sharply -- as the number of cases has skyrocketed.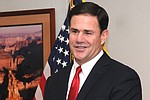 Arizona public schools will be closed for at least the next two weeks.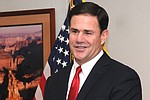 Gov. Doug Ducey on Tuesday brushed aside questions of whether migrants, legal or otherwise, should be concerned about answering questions for the upcoming census.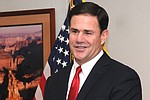 Gov. Doug Ducey won't support extending state laws to prohibit discrimination against individuals based on their sexual orientation, he said this week.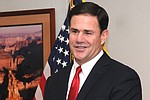 Gov. Doug Ducey took a slap Tuesday at the new Trump administration policy that seeks to deny "green cards'' to those at the bottom of the economic ladder.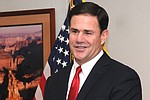 Calling it the best way to prevent mass shootings, Gov. Doug Ducey is renewing his bid to allow judges to take away guns of people believed to be a danger to themselves or others and have them held for mental examination.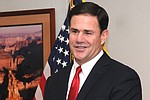 Gov. Doug Ducey denied Tuesday that he unilaterally ordered the Commerce Authority to rescind a $1 million incentive that had been offered to Nike to locate a manufacturing facility in Goodyear.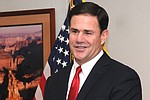 PHOENIX -- Gov. Doug Ducey took a swat of sorts Monday at businesses who are concerned about the effects of the president's threatened tariffs on the state and national economy.