Camp Verde's plan for its 7th Street improvements is to construct curb, gutter, sidewalk, sidewalk ramps, street lighting and stormwater improvements along the north side of Hollamon Street from 6th street to Cliffs Parkway, and along the west side of 7th Street from Hollamon Street to the existing sidewalk at the Post Office parking lot exit on 7th Street. Pictured is 7th Street, north of Hollamon Street facing the Camp Verde Post Office. VVN/Bill Helm
Stories this photo appears in: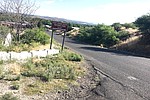 CAMP VERDE – Once the Town of Camp Verde awards a contract for sidewalk improvements along Hollamon and 7th streets, the project should take about four months to complete.