Eric Jurisin, left, owner of Haunted Hamburger and Grapes, has consistently pushed the idea of honor/donation boxes as an alternative. "They cost the town nothing other than the cost of installation," he said. Jerome Fire Chief Rusty Blair, right, questioned the effectiveness of donation boxes as a revenue source. VVN/Kelcie Grega .
Stories this photo appears in: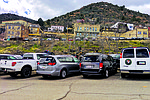 Jerome Fire Chief Rusty Blair said the town needs millions in revenue just to maintain the community.