The fight over deferred deportation was at the Supreme Court in 2016, shown here, when it refused to allow an expansion of DACA to include parents. On Tuesday, the high court will consider whether the Trump administration has the authority to end the Deferred Action of Childhood Arrivals program entirely. (Photo by Madison Alder/Cronkite News)
Stories this photo appears in: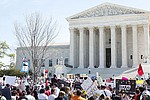 Arizonan Yazmin Irazoqui-Ruiz can't be in Washington when the Supreme Court considers whether the Trump administration can end DACA, the Deferred Action for Childhood Arrivals program that has allowed her to stay in this country and go to medical school.
By Lindsay Walker and Amy-Xiaoshi DePaola, Cronkite News
November 11, 2019