Blane and Susan Barksdale (Tucson Police Department)
Stories this photo appears in: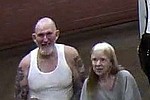 U.S. Marshals have released new images of Blane Barksdale and his wife Susan Barksdale, murder suspects who overpowered security guards and escaped from a prison transport last week.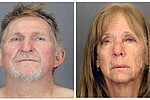 Authorities believe husband and wife fugitives wanted in the killing an Arizona man have been able to stay under the radar for more than a week because they are getting help from multiple people.