Crystal Briley, 39, from Ohio, was arrested Dec. 1, 2020, after a traffic stop. Officers found and seized more than 280 pounds of marijuana, four pounds of cocaine; and about 8,000 fentanyl pills in the Dodge Ram she was driving on Interstate 17 just north of Cordes Junction. Briley reportedly denied the items were hers. (YCSO)
Stories this photo appears in: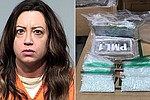 An early-morning traffic stop for speeding and driving outside of travel lanes on Interstate 17 resulted in the arrest of an Ohio woman for possession of large quantities of fentanyl pills, cocaine, and marijuana.