Camp Verde issued 784 citations and 1,971 written warnings, which means about
40% of stops resulted in a citation rather than a warning.
-- Camp Verde Commander Brian Armstrong
Stories this photo appears in: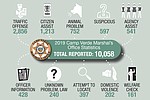 The Camp Verde Marshal's Office reported 10,058 offenses in 2019. More than one-fourth of those observed or reported offenses – 2,856 – were traffic stops.