Jan Marc Quisumbing is the new teen librarian in the Teen Zone at the Cottonwood Public Library. The zone is upstairs in a separate area in the library. VVN/Vyto Starinskas
Stories this photo appears in: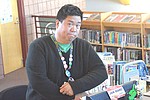 Jan Marc Quisumbing may not be dressed in a superhero outfit, but the graphic artist is known in the Verde Valley for his comic book artwork and numerous comic shows and expos.