Zoey Arwine also was a valuable four-year swimmer for coach Gretchen Wesbrock's MUHS team. Much like her role as a wrestler and a goalkeeper, Arwine ended up excelling at the butterfly stroke — something that requires a high level of attention to stroke mechanics and full-body strength. VVN file photo
Stories this photo appears in: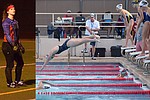 One Saturday in February, Zoey Arwine managed to accomplish something seldom seen in high school athletics: postseason competition in two sports on the same day.