Chris Eckels, front, and Sharon Mattern, tend to the vineyard at Mingus Union High School. The Verde Valley placed 10th in a national annuall website contest to determine the top wine regions in North America. VVN file/Bill Helm
Stories this photo appears in: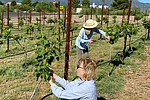 Even though a annual, national contest didn't result in the Verde Valley placing quite as high as it did in 2019, the result still helped solidify its place in the wine world.