When Gabriella Goodman closed Gabriella's Restaurant in the Starbucks building at State Route 260 in March, she did not expect to reopen. Earlier this month, Goodman reopened her restaurant next to Dairy Queen. VVN/Bill Helm
Stories this photo appears in: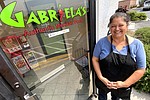 In mid-March when restaurants and bars first closed because of COVID-19, Gabriela Goodman didn't expect to reopen her restaurant, Gabriela's.