Trachea transplant recipient Sonia Sein talks with the lead surgeon of her procedure, Dr. Eric Genden, left, during a checkup visit at Mt. Sinai hospital in New York on Monday, March, 22, 2021. She is breathing freely again after a January windpipe transplant. (AP Photo/Marshall Ritzel)
Stories this photo appears in: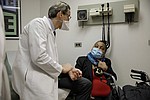 Sonia Sein said she spent the last six years "trying to catch every breath at every moment" after extensive treatment for her severe asthma damaged her windpipe.
By Mario Renault and Marshall Ritzel, Associated Press
April 14, 2021