In the distance, smoke billows toward the sky from the Rock Butte Fire north of Paulden on June 21, 2021. With more than a dozen fires in the state of Arizona and dry temperatures this summer, Yavapai County has issued an order banning all outdoor fires. (YCSO/Courtesy)
Stories this photo appears in: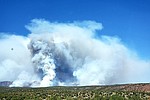 Yavapai County Board of Supervisors Chairman Craig Brown this week signed an interim order banning outdoor fires in the county to protect the public, infrastructure, and environment during this period of extreme wildfire danger, a news release stated.