As seen from I-40 on Sunday, the Rafael Fire was still producing a great deal of smoke. However, both the Rafael and Backbone fires were past 40% Monday in containment. VVN/Vyto Starinskas
Stories this photo appears in: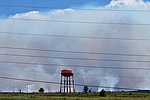 Positive news came from the incident command Monday at both of the main wildfires burning near the Verde Valley.