In this Aug. 3, 2020 photo, Mickey Guyton is photographed during a remote portrait session with the photographer in New York and subject in Los Angeles. Guyton's EP, "Bridges," is set to be released on Sept. 11. (Victoria Will/Invision, via AP)
Stories this photo appears in: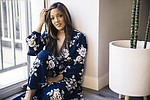 It's hard enough to be Black woman in America, but Mickey Guyton's path in country music has been especially fraught with obstacles she had to overcome.
By KRISTIN M. HALL, AP Entertainment Writer
September 28, 2021