In the delightful and irresistible French comedic road movie "My Donkey, My Lover & I," Laure Calamy is the delightfully zany Antoinette — a heartbroken school teacher who impulsively goes on a six-day hike to follow her lover, accompanied by Patrick, a cantankerous, protective donkey. (Image provided by SIFF.)
Stories this photo appears in: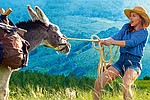 The Sedona International Film Festival is proud to present the Northern Arizona premiere of "My Donkey, My Lover & I" showing July 23-27 at the Mary D. Fisher and Alice Gill-Sheldon Theatres.