Volunteers staff the ticket counter at the Wildcat Carnival (left). (West Sedona School PTA/courtesy) Decorated pumpkins at the Oak Creek School Halloween Carnival (top right). (Oak Creek School PTO/courtesy) Melissa Schrader, a volunteer for the Scorpions Booster Club at Casino Night with swim coach Lauren Robinson (bottom right). (Scorpions Booster Club/courtesy)
Stories this photo appears in: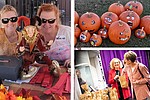 Celebrating its 125th anniversary this year, the National Parents and Teachers Association was founded in 1897 as the National Congress of Mothers by Alice McLellan Birney and Phoebe Apperson Hearst, mother of William Randolph Hearst, the magnate of Hearst Communications.