During filming at the First Congregational Church on Gurley Street in downtown Prescott Friday, March 3, 2023, Arizona Film Commissioner Matthew Earl Jones, right, meets with representatives of the "Mysteries of the Heart" movie. Those involved with the movie include Nicely Entertainment Production Executive Dave Hickey, front left, and CEO Vanessa Shapiro, front center. Also meeting with Jones were Line Producer Rochelle Savory and Jon Wright of Maven Production Services, left, and Helen Stephenson, director of Film and Media Arts at Yavapai College, right back row. (Cindy Barks/Courier)
Stories this photo appears in: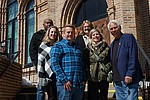 In what is expected to be among the first movies to benefit from Arizona's newly restored film tax incentives, a cast and crew arrived in Prescott last month to shoot scenes on the picturesque downtown streets, in local businesses, and in a downtown church.
By By Cindy Barks, The Daily Courier
March 22, 2023